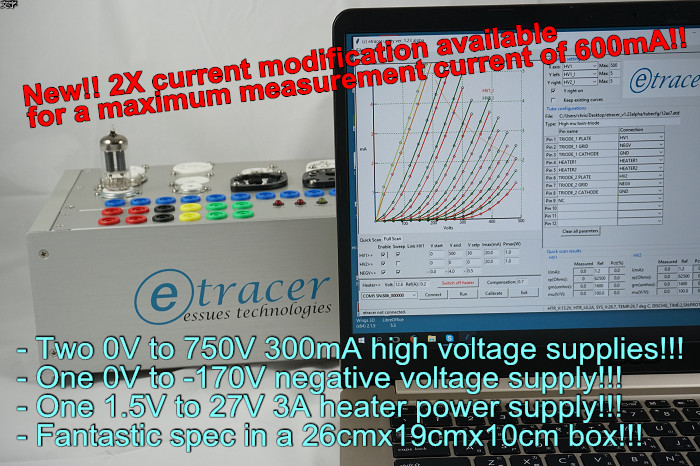 Details

Category: Uncategorised
Hits: 39996
click>>Check out our blog section for the latest features added to etracer!! <<click
Welcome to our website dedicated to etracer, a PC controlled vacuum tube curves tracer/tester.
Thanks to modern technologies such as switching mode power supply, high-voltage semi-conductor devices and high speed micro-controllers the amazing spec of etracer can be achieved efficiently. Unlike traditional vacuum tube testers, etracer uses short test pulses similar to a flash light in a camera system such that a capacitor is charged to a target voltage and then directed to the plate electrode of the vacuum tube under test during the measurement pulses.
The heart of etracer contains two identical high voltage supplies named HV1 and HV2 respectively. HV1 is intended to be connected to the plate electrode of a TUT (tube under test). HV2 is connected to the screen electrode for a tetrode or pentode or connected to the plate electrode of the second unit for a twin-triode. A negative voltage supply of 0~-180VDC is implemented to supply the bias voltage for the grid electrode of the TUT. A 1.5V to 27V fully regulated DC power supply with a current capacity of 3A is available to supply vacuum tubes' heater up to 30 Watts. All the circuits are implemented in a 21cm by 15cm PCB (printed circuit board).
The etracer PCB is fully assembled and tested at our factory. The output voltage on each power supply is calibrated at 16 strategically spaced points. Adventurous users can purchase the bare etracer PCB and build a complete tester around it. For customers who want a turnkey solution the Model-01 chassis kit complete the etracer system in an extreme compact format of merely 26cmx19cmx10cm.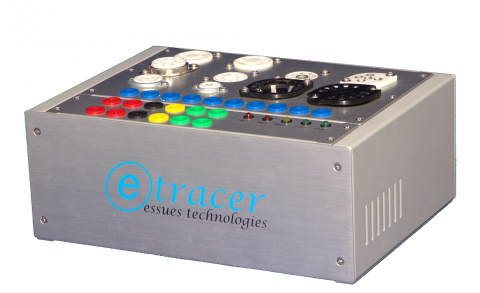 etracer with the Model-01 chassis
As vacuum tubes enthusiasts and vacuum tubes collectors etracer is designed the way we would like a vacuum tube tester to be. The high voltage supply must be high enough to test the vacuum tube at the maximum plate voltage. The negative voltage must be low (negative) enough to collect a full curves set for DHTs (directly-heated-triode).  The spec for etracer is more than adequate to test common audio tubes ranging from small signal tubes such as 12AX7s and 6DJ8s to power tubes such as 300Bs and KT88s.
etracer can be used as a traditional vacuum tube testers with more parameters output such as quiecient current, transconductance (gm), amplification factor (u) and plate resistance (rp). For tetrode and pentodes the tube under test can be configured as a triode or as a tetrode/pentode. Twin-triode such as 12AX7 can be tested in one shot.
etracer is built to last with conservative parts selections and full protection circuits that prevents any short between it's 6 output pins.
The PC control software is written in Python with NumPy, SciPy and Matplotlib libraries. This software platform is independent of both underlying PC hardware and operating systems making it easy to adopt future OS evolution and always stays up to date.
The formal software releases provide three basic test modes: quick-scan, full-scan and corners-test. A combo-test mode is available to test a batch of tubes with a predefined heater warmup time. Measurement data can be saved in multiple formats such as text file, CSV file and PDF file. The traced curves can also be saved in jpeg or bmp format. When a full set of plate-curves are captured the basic-params mode displays the parameters of choice (current, gm, mu and rp) following the mouse cursor. And the cool load-line analysis tool allows the user to tweak the load-line and obtain the voltage swing, output power and distortion analysis up to the 7th order of harmonics on the fly.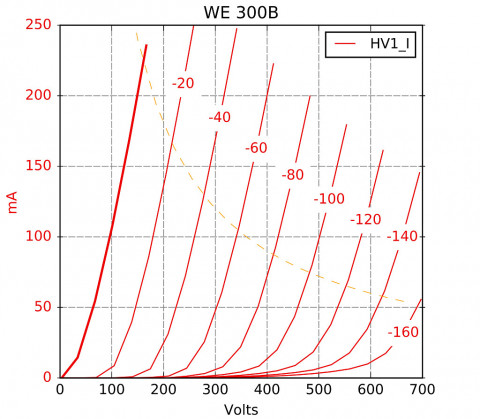 Sample traced curves for a Western Electric 300B triode

Sample traced curves for a 6L6GC under pentode connection with a screen volt of 250V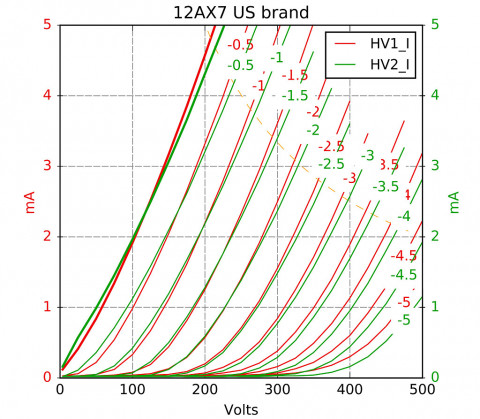 Sample traced curves for a 12AX7 twin-triode

The (trial) alpha version software comes with more features such as label-printing with a Brother QL series label printer, 2x current mode allows both high voltage supplies to supply up to 600mA (hardware modification required).
Since the introduction of etracer in late 2017 it is very well received by the tubes societies worldwide. Currently more than 500 sets of etracer were sold and our customers include repair-shop, musicians, tubes dealers and tubes collectors. Please check out the testimonials section for comments from our customers.
The following links provide deeper insights of the development and design philosophies for etracer. Be sure to check out our blog section for more articles.
We also have a video section with a collection of video clips that covers a variety of topics related to etracer and tubes testing.
Details

Category: Uncategorised
Hits: 8091
etracer kit can be bought directly from us. For customers from non-English speaking regions etracer kit can be also bought from our worldwide distributors if local support is desired. Below is a list of our distributors worldwide:
Japan


Amtrans Corporation
Website: http://www.amtrans.co.jp
Belgium, Netherlands, Germany and France

Aqua Blue (Diyparadiso)
Website: http://www.diyparadiso.com/
Details

Category: Uncategorised
Hits: 7964
This video clip was created on 12nd September 2017. In this video clip the protection mechanism inside etracer is explained in detail.
.be
Details

Category: Uncategorised
Hits: 37790
Placing an order
Currently order can only be made by contacting us by This email address is being protected from spambots. You need JavaScript enabled to view it.or by leaving a message at the website. Please list the items you want to purchase with your contact information (name, address, phone number) for shipping fee calculation. We usually respond to inquires within 24 hours. If you do not receive our email within 48 hours please check your junk mail folder before contacting us.
It is recommended to go through the manuals and play with the etracer software before you make a purchase decision. All manuals and software can be downloaded freely from the download section at the etracer website:
https://www.essues.com/etracer/index.php/downloads/category/2-official-etracer-documents-and-software
Pricing
Thanks for considering purchasing an etracer. A minimum set of etracer contains one etracer PCB and one software license. The Model-01 chassis and the EPP-200-27 power supply are optional.The following pricing applies to worldwide markets except Taiwan.

- PC control software USD$500 (Mandatory)

Each purchase of an etracer PCB requires a single software license.

- Built and tested PCB: USD$380 (Mandatory)


- Model-01 chassis with accessories: USD$250 (Optional)

| | |
| --- | --- |
|   |   |
|  Front |  Back |
The model-01 chassis is made of high quality 5052 aluminium alloy with a thickness of 1.5mm. Each piece is precisely machined and processed in Taiwan. The default configuration has openings for 10 different types of vacuum tube sockets as shown in the above photos. Please check the Model-01 chassis manual to see what's included in the chassis package.

- Mean Well EPP-200-27 power supply: USD$40 (Optional, must be bought together with the Model-01 chassis)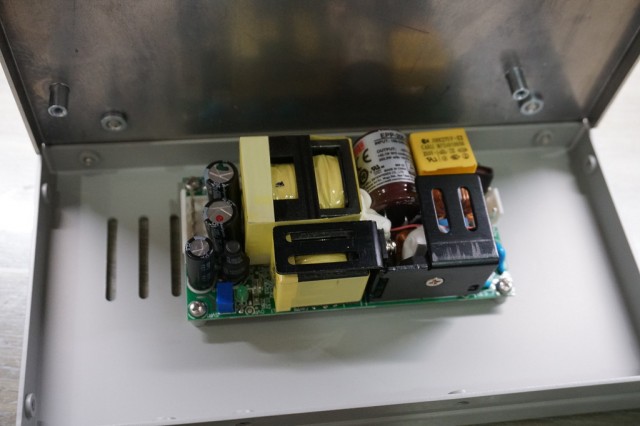 Mean Well EPP-200-27 mounted on the right panel of Model-01
- Top-B-3 blank top plate for customizing sockets: USD$20 (Optional)
Top-B-3 blank top plate
- Sbox12 auto-wiring module kit set including PCB, chassis and accessories: USD$800 (Optional)
Please refer to the following links for more information about the Sbox 12 add-on:
https://www.essues.com/etracer/index.php/blog/53-annoucing-the-sbox12-an-automatic-wiring-box-for-etracer
https://www.essues.com/etracer/index.php/video/70-video-introducing-the-sbox12-auto-wiring-module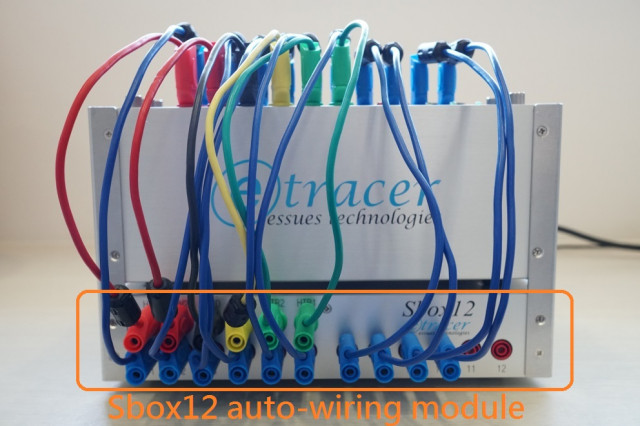 Sbox12 auto-wiring module
New!! 2019/3/1
- Assembly service now available at USD$180 for etracer (Optional)
Due to lots of inquires from people who just want to use etracer as a digital vacuum tester we now offer etracer as a built unit. We always encourage users to build the etracer kit by themselves to get familiar with the etracer hardware but we understand it might be difficult for tubes enthusiasts who don't have exposure to electronics. The lead-time for this assembly service is four weeks. A SanAce 9S0812L411 chassis fan is included in this package. The fan is very quiet and durable.
New!! 2019/10/1
- Assembly service for Sbox12: USD$90 (Optional)

The prices above do not include shipping, import tax,etc. The claimed value is based on the hardware shipped and software license fee is not claimed. The shipping weight for a complete etracer set or a compete Sbox12 kit set is about 2.5 kg. The payment can be wired directly to essues's bank account or can be made by Paypal with a 6.9% service fee collected by Paypal.
Starting from 2019/9/1 we accept payments from companies (not individual) with Payoneer. Payoneer accept payments in local currency (USD, EUR, etc.) by bank transfer with a service rate as low as 1.2%. We highly recommend this payment method for company owners or orders from companies or schools. It is not required to register with Payoneer to use their service!!


Shipping
We ship with DHL to countries outside Asia. We have very good rates with DHL and we have zero delivery issue with DHL so far. Currently the shipping rate is USD$105 to US and USD$110 to most countries in Europe for an etracer kit (2.5kg). The shipping time is two days.
Warranty
etracer comes with a limited warranty of 30 days. During this warranty period the users can test the PCB and ask a replacement in case the PCB is DOA (Dead On Arrival).
Return Policy
If the customer is not satisfied with etracer for any reason please contact us within 30 days from the time the item is received. Ship back the item and a full refund will be made less applicable fees.
Service and Support
We do our best to support our customers. Repairing service is available and charged by a modest fee. For the worst case a replacement PCB is available at USD$280. The customer needs to ship the malfunctioned PCB back for repair or replacement. We have a facebook group dedicated to etracer. Any discussion or feature request can be posted there. The link to the facebook group is: https://www.facebook.com/groups/154835195049377/

We can be reach by email or by phone as well.

IMPORTANT NOTE
Before you place an order, please register and download the manuals to get a full understanding of what you will be getting. Features not described in the manuals are not officially supported.
HIGH VOLTAGE!!!
etracer is designed for testing vacuum tubes. Its output voltage can be as high as 800 Volts.
End user agreement:
etracer is a testing equipment designed for professional use. We extensively describe the circuit architecture and the operation principle of etracer in the manuals. Users shall read all related material carefully and thoroughly and understand how to operate etracer safely. We are not responsible for any electric-shock, damage to vacuum tubes, injury or loss of property caused by using  etracer.
Order of the etracer implies you agree with the terms above.
Details

Category: Uncategorised
Hits: 7184
My name is Chris Chang. I got bachelor's degrees in both mathematics and electrical engineering from Fu-Jen Catholic University Taiwan and a masters degree in Electrical Engineering from University of Pennsylvania USA. I've being working in the wired communications industry and studied phone line for more than 15 years. I attended ITU-T (International Telecommunication Union) meetings and I am highly involved in the delopment of the communication standards for copper wires such as ADSL, VDSL and G.fast. My expertise includes  DSP, communications algorithms, VLSI design and much more. I am entitled in 6 US patents as the first inventor or a solo inventor in wired communications. In year 2016 a serious health issue hit me and I decided to quit the job and pursue something interests me the most. Besides developing etracer I am also doing consulting for various projects. And I am open for any future opportunity.  My profile can be viewed at linkedin:
https://www.linkedin.com/in/chris-chang-tw
etracer is sold through my company, essues Technologies Co. Ltd., in Taiwan. For sales inquires please fill in the contact form. I will get back to you as soon as possible.