Placing an order
Currently order can only be made by contacting us by This email address is being protected from spambots. You need JavaScript enabled to view it.or by leaving a message at the website. Please list the items you want to purchase with your contact information (name, address, phone number) for shipping fee calculation. We usually respond to inquires within 24 hours. If you do not receive our email within 48 hours please check your junk mail folder before contacting us.
It is recommended to go through the manuals and play with the etracer software before you make a purchase decision. All manuals and software can be downloaded freely from the download section at the etracer website:
https://www.essues.com/etracer/index.php/downloads/category/2-official-etracer-documents-and-software
Pricing
Thanks for considering purchasing an etracer. A minimum set of etracer contains one etracer PCB and one software license. The Model-01 chassis and the EPP-200-27 power supply are optional.The following pricing applies to worldwide markets except Taiwan.

- PC control software USD$500 (Mandatory)

Each purchase of an etracer PCB requires a single software license.

- Built and tested PCB: USD$380 (Mandatory)


- Model-01 chassis with accessories: USD$250 (Optional)

| | |
| --- | --- |
|   |   |
|  Front |  Back |
The model-01 chassis is made of high quality 5052 aluminium alloy with a thickness of 1.5mm. Each piece is precisely machined and processed in Taiwan. The default configuration has openings for 10 different types of vacuum tube sockets as shown in the above photos. Please check the Model-01 chassis manual to see what's included in the chassis package.

- Mean Well EPP-200-27 power supply: USD$40 (Optional, must be bought together with the Model-01 chassis)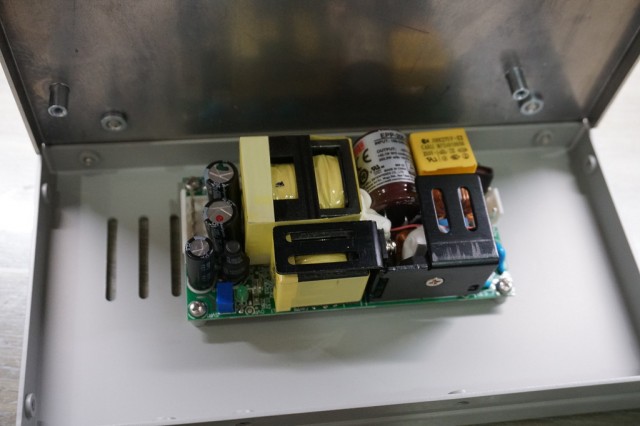 Mean Well EPP-200-27 mounted on the right panel of Model-01
- Top-B-3 blank top plate for customizing sockets: USD$20 (Optional)
Top-B-3 blank top plate
- Sbox12 auto-wiring module kit set including PCB, chassis and accessories: USD$800 (Optional)
Please refer to the following links for more information about the Sbox 12 add-on:
https://www.essues.com/etracer/index.php/blog/53-annoucing-the-sbox12-an-automatic-wiring-box-for-etracer
https://www.essues.com/etracer/index.php/video/70-video-introducing-the-sbox12-auto-wiring-module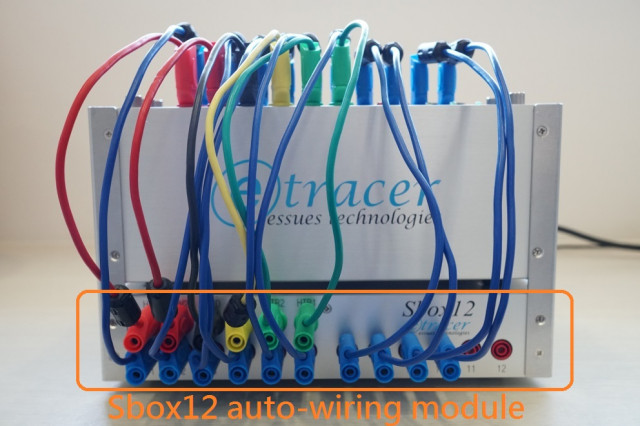 Sbox12 auto-wiring module
New!! 2019/3/1
- Assembly service now available at USD$180 for etracer (Optional)
Due to lots of inquires from people who just want to use etracer as a digital vacuum tester we now offer etracer as a built unit. We always encourage users to build the etracer kit by themselves to get familiar with the etracer hardware but we understand it might be difficult for tubes enthusiasts who don't have exposure to electronics. The lead-time for this assembly service is four weeks. A SanAce 9S0812L411 chassis fan is included in this package. The fan is very quiet and durable.
New!! 2019/10/1
- Assembly service for Sbox12: USD$90 (Optional)

The prices above do not include shipping, import tax,etc. The claimed value is based on the hardware shipped and software license fee is not claimed. The shipping weight for a complete etracer set or a compete Sbox12 kit set is about 2.5 kg. The payment can be wired directly to essues's bank account or can be made by Paypal with a 6.9% service fee collected by Paypal.
Starting from 2019/9/1 we accept payments from companies (not individual) with Payoneer. Payoneer accept payments in local currency (USD, EUR, etc.) by bank transfer with a service rate as low as 1.2%. We highly recommend this payment method for company owners or orders from companies or schools. It is not required to register with Payoneer to use their service!!


Shipping
We ship with DHL to countries outside Asia. We have very good rates with DHL and we have zero delivery issue with DHL so far. Currently the shipping rate is USD$105 to US and USD$110 to most countries in Europe for an etracer kit (2.5kg). The shipping time is two days.
Warranty
etracer comes with a limited warranty of 30 days. During this warranty period the users can test the PCB and ask a replacement in case the PCB is DOA (Dead On Arrival).
Return Policy
If the customer is not satisfied with etracer for any reason please contact us within 30 days from the time the item is received. Ship back the item and a full refund will be made less applicable fees.
Service and Support
We do our best to support our customers. Repairing service is available and charged by a modest fee. For the worst case a replacement PCB is available at USD$280. The customer needs to ship the malfunctioned PCB back for repair or replacement. We have a facebook group dedicated to etracer. Any discussion or feature request can be posted there. The link to the facebook group is: https://www.facebook.com/groups/154835195049377/

We can be reach by email or by phone as well.

IMPORTANT NOTE
Before you place an order, please register and download the manuals to get a full understanding of what you will be getting. Features not described in the manuals are not officially supported.
HIGH VOLTAGE!!!
etracer is designed for testing vacuum tubes. Its output voltage can be as high as 800 Volts.
End user agreement:
etracer is a testing equipment designed for professional use. We extensively describe the circuit architecture and the operation principle of etracer in the manuals. Users shall read all related material carefully and thoroughly and understand how to operate etracer safely. We are not responsible for any electric-shock, damage to vacuum tubes, injury or loss of property caused by using  etracer.
Order of the etracer implies you agree with the terms above.